China has a compulsory vaccination policy, which means that all children are required by the government to receive a list of vaccines decided upon by government policymakers. Parents have no control as to which vaccines their children receive or when they receive them—a situation that puts them at the mercy of decisions being made by health officials and politicians.
A crisis occurred July 15, when 113,000 doses of human rabies vaccine were found to be defective. Subsequently, it was discovered that 253,338 DPT vaccines produced by the same company were faulty. Although the Chinese government regulates internet activity and social media, it could not contain the cry of outrage from parents whose children received faulty vaccines—and the event opened a Pandora's box of pent-up frustration among parents who live in fear that their children will be harmed by products the government has failed to properly regulate.
This is not the first time that China's policies and lack of proper oversight have brought harm to its people. In 2008, 300,000 children became ill after drinking contaminated formula—six of them died.  In November of 2017, 400,000 doses of DPT vaccine were found to be defective. Over the years, Chinese parents have grown increasingly concerned about their ability to trust the government's oversight as to the safety of their children. Understandably, the repeated threats to children's health have caused growing distrust and anger.
"I just want to express a mother's anxiety," one parent wrote. "The vaccine case is like pouring poison into the well."
Others weighed in with comments that show the impact that government mandated vaccines and corruption have on people's life choices.
"People ask why I don't have children. It's because I don't want my child to drink tainted milk powder, to be injected with fake vaccines … I don't want to see what happened to our generation to happen to the next."
This is sobering and deeply disturbing—people in China are choosing not to have families at all, due to concerns that their government is failing to protect its children by allowing tainted products to be distributed to its most vulnerable citizens. Not only that, but the government is mandating the vaccines, which means that parents have no choice but to expose their children to something that they know could very well cause them harm or even death.
China is currently sorting through the mess, and parents whose children were recently vaccinated are frantically trying to ascertain whether or not their babies received shots from faulty batches. The feeling of frustration, panic, and helplessness is driving angry reactions that are proving hard to contain, and although promises have been made to investigate the vaccine production and sales process it will be hard to win back the public's trust.
Even if the company that produced the vaccines is fined or shut down, there is no way to undo the damage that's occurred—both to any children who may have been injured by the debacle and to the public's confidence in their government's ability to keep their children safe.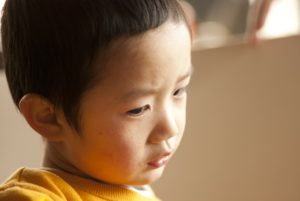 What can we learn from what China is going through? Our ability to make decisions about our children's health is absolutely vital, and as a country we need to continue fighting for transparency, safety, and the rights of parents to make choices for their own children's health and well-being. The plight of China's parents demonstrates what can happen when the government mandates health decisions, when corrupt companies are allowed to operate with impunity, and when proper studies, quality checks, and follow-up research are either not conducted or when their results are prevented from being released to the public.
Before being plunged back into silence, online commenters sent heart-rending pleas to the US embassy: "Please ask the ambassador to help us call for human rights and give a child a lifeline. The fake vaccines have been uncovered, poisoned milk powder overflows. Save the children," one read.
"Mr. Ambassador, tell Mr. Trump, liberate China," wrote another concerned citizen.  "We don't want our children and grandchildren to be persecuted by their vaccines."
In America, a similar outcry should rise over the safety of vaccines recommended and pushed on the children of our nation. We still have the ability to make choices for our children and protect them from vaccine injury, but if many politicians had their way that freedom would be taken away and we would be facing a similar situation to the crisis in China. We need to commit today to protect our rights as parents and individuals to choose what goes into our bodies so that the next generation will have the freedom to do the same.
– Vaccines Revealed